Review of BarBar Fetish Club in Bangkok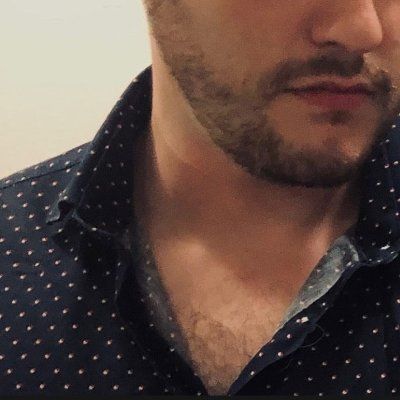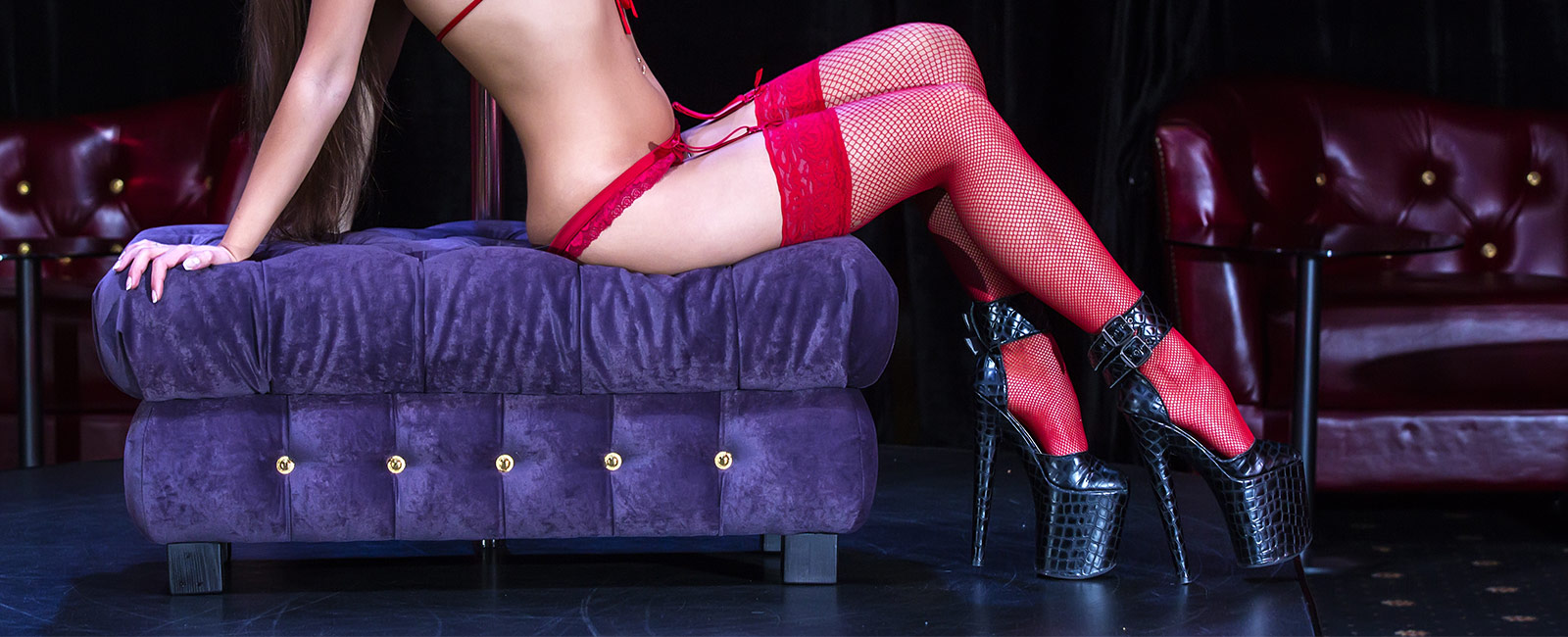 You don't have to venture far in Bangkok before you're confronted with some form of live sex show. It's not just for those interested in vanilla sex (or ladyboys) either: Bangkok has a thriving BDSM scene with two fetish clubs: BarBar and Demonia.
Both clubs offer a similar experience and are equally as good in my opinion. For this article, I'm going to focus on BarBar as I wrote a review of Demonia in a separate article.
BarBar Location
For those interested in visiting BarBar (which I highly recommend) you can find it located on Patpong Soi 2, in the bustling Patpong area of central Bangkok. Take the Skytrain to Sala Daeng and then it's just a short walk around the corner.
The dress code is a black shirt, but I've found they are pretty relaxed as long as you look smart – I usually wear a plain black t-shirt with shorts. Fetish gear is obviously welcomed but bear in mind that Bangkok is extremely hot and humid so you'll want to dress in light clothes and then change when you arrive at the club.
When you walk down Soi 2, you'll see a doorman standing outside shouting "SM show" and "Try something different tonight" at people passing by. The doorman is a real gentleman and very friendly. Once you approach the door, he will quickly escort you inside and out of view to save you any embarrassment from being seen entering the club.
Opening hours are 6pm - 3am with peak times between 10-2am on the weekends.
Pricing
The entrance fee is 900 Baht ($25) and includes a drink of your choice. The doorman will joke about a tip for himself, so I usually give a 1000 baht note for the entrance fee plus a 100 baht ($3) tip for the doorman.
He will then guide you upstairs to the main bar where a bartender will present you with a drinks menu and serve your chosen drink.
Additional drinks then cost 300 baht ($6) for you and 280 ($8.25) baht for lady drinks. This is quite expensive, even by Western standards, but you're paying a premium for the show and interactivity with the girls.
There is also an annual membership package for 15,000 Baht ($440) which provides unlimited access to the club, 30 bottles of beer (or 3 bottles of spirits) and reduced drink prices of 150 Baht which is exceptionally reasonable.
BarBar accepts all major credit cards so carrying cash with you is not a necessity.
Inside BarBar
The club itself is reasonably sized with a bar situated adjacent to a small show area surrounded by a few sofas, a cage and some other equipment such as medieval stocks and a spanking bench. There are also additional rooms for private play: a medical room, a dungeon and a glass room for those feeling brave enough to let others enjoy watching your private sessions. There's also a shower (with a see-through cage door) too which you can use.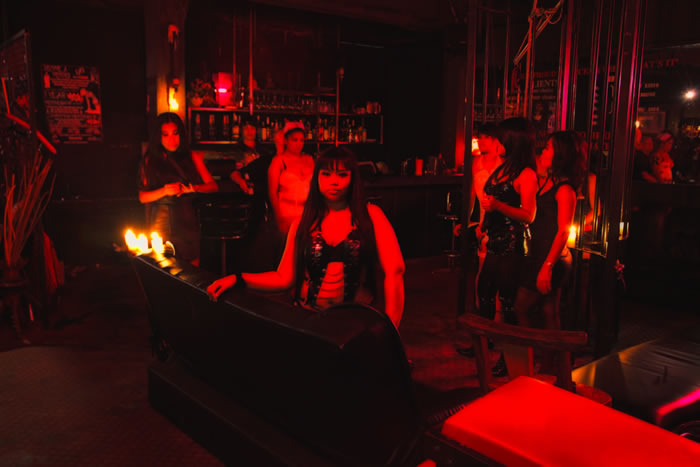 BarBar main bar and show area. Source: http://barbarfetishclub.com
There's a well-stocked selection of whips, floggers, leashes, collars and all the usual BDSM gear too.
The Girls
There's a good selection of about 12-15 Dommes and slave girls on a Saturday night. I've never been during the week, but presumably, the choice is the same.
The women all speak enough English to communicate with you, so you don't need to know how to speak Thai – although it would be a bonus if you could as Thai women love it when foreigners can speak their language.
It's obvious that working at BarBar is just a job to some of these women but others enjoy it. I was fortunate to connect with one woman who I then played with all night long. When I came back the second night, I had a private session with her again. She was fun and genuinely loved domination. Even after I'd climaxed, she still sat with me and chatted until I left.
Protocol
There will be short shows going on throughout the night where the girls will spontaneously play; you will be participating in the shows whether you like it or not! This is a great way to loosen up and indulge in some of your fantasies.
They'll hand you a whip or a hot candle and tell you to inflict some pain upon their slave and then do the same to you.
After 5-10 minutes of play, if you want to continue you will have to buy the women a drink (280 baht each), after which you can continue to play in the main area (where everyone can see). If you're comfortable doing this, then you can have a lot of fun and get to know a woman before taking her for a private session.
The girls in Bar Bar are not pushy and have never hassled me for a private session. They will insist that you buy them a drink, which is understandable if they're putting on a show for you or playing with you directly.
Buying drinks is a low-cost way to sample a few women and find the right one for you, then when you're happy you can go private.
You don't have to go private either – I've had nights in BarBar where I just played in the main area all night and bought my Mistress drinks without ever going for a private session.
Fetishes & Limits
These women will pretty much do whatever you're into and have extended limits compared to other places in the Western world. The Mistress I was playing with told me that she "took a poo poo" in a man's mouth the night before.
That's a little extreme for me, so I just stuck to foot worship, spitting and being walked around the club on a dog leash.
Private Sessions
If you're hitting it off with one of the Mistresses (or slaves), you can both go to a private room which costs 3,500 baht ($100) for one hour. This is extremely cheap compared to Western prices, which are around $300 for one hour with a Dominatrix. The woman may ask for more drinks during your private session, and of course, you can buy drinks for yourself too.
The private sessions are much more full on than playing in the main stage area: I was quickly stripped naked and lead into a glass room – there was no-one else inside, but other punters and Mistresses would occasionally walk past. It was both thrilling and a little terrifying at the same time.
Outcalls
If you'd prefer to play at your place, you can take a woman out of the club for 3 hours for 4,500 baht ($130) plus the bar fine, which is 4,000 baht before 9pm and 2,000 Baht after.
If you want a longer session or an overnight experience, then you have to negotiate a price with your Mistress and then also pay the bar fine.
Atmosphere
BarBar is quite dark inside, but you can still see what you're doing. It has a dark, edgy BDSM vibe and I find that this is heightened exponentially because the women are exotic Thai girls. If it's your first time in Bangkok, it will feel quite surreal.
You'll find all manner of people in here, from dominant men to couples to submissives. Those who are experienced and people who are having their very first experience. It's a fun place to go, and I love going back every time I visit Bangkok.
Check out the promo videos below, or visit www.barbarfetishclub.com for more information.